Fake slot machine software often existed prior to online marketing. The manufacturers of the slot machines modified the games so that Internet users could play them. The companies regulated by national legislation had a good reputation. They didn't sell their products to unregulated casinos or only at a high price. A number of companies appeared on the market that counterfeited and sold slots from popular manufacturers.
Why are pirated copies made and why are they in demand?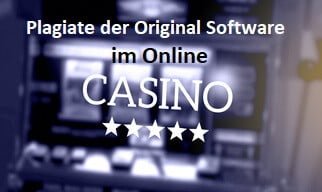 The games of leading manufacturers such as Novomatic, NetEnt, Microgaming and IGT are copied by small IT companies (mostly consisting of several programmers and designers) and transferred to operators from all over the world for a fee.
Pirates have learned to copy games so adeptly that even experienced gamers have difficulty distinguishing originals from fakes. However, design isn't the only thing pirate creators can create. Players lose money faster by changing the payout percentage as requested by the operator.
The height of gambling piracy
The boom in pirated software happened at the time when gambling was banned by the state in some countries. This was a treasure trove for counterfeiters, as arcades disguised as internet cafes opened up in many cities, where everyone could play well-known games.
A self-made payment system supplemented the accounts. This legal agency structure was set up to raise funds for offshore companies. Accordingly, in legal terms, by issuing funds to the device, players replenished the account of the payment system and withdrew the funds after the official payout.
How the Gambling Ban Affected Piracy!
The use of copies also remains relevant through the regulation of Internet gambling in many countries. The difference was that before the ban, many websites only used pirated content. Both pirated and legal games have been found on the same website over the past ten years. It has gone so far that major gambling companies with official licenses in local markets have been using illegal gambling content for many years and never stop.
Is it possible to do without copies?
Yes it is possible although two things are required. Players learn how to distinguish original gambling content from fakes. The legal prosecution of pirate copy manufacturers.
Piracy games features
There are three main characteristics that help distinguish an original from its copy:
The game is not downloaded from the manufacturer's server. Each manufacturer must have its own server from which to download games.
There is no unified system of jackpots (however, this indicator is not very reliable, since manufacturers often do not offer their jackpots to all operators and geographic markets).
Companies that produce original gaming software often publish a list of casinos they work with. Any player can write to the manufacturer's information service company and find out whether this or that casino is his customer.
---
Legal prosecution of piracy producers
Fake online games are common on websites without a transparent structure. Information on recognized licenses, owners and managers. Such companies operate in a gray area and are designed in such a way that ownership is difficult to define.
Trials by Novomatic and NetEnt
Not least because of this, companies like Novomatic and NetEnt have made no serious attempts to hold the companies using copied software accountable over the years. As a result, operators became less active in hiding, and pirated software appeared even on websites whose owners and managers are known. The websites themselves have expensive gambling licenses that allow them to operate legally in international and local markets.
Cases of piracy – Novomatic against pirates
Gaming operator Novomatic launched a campaign against intellectual property piracy in 2006. The essence of this struggle was to register industrial property rights in the form of trademarks, patents and designs for subsequent enforcement of claims.
Pirated copies of Pragmatic Play and Yggdrasil

In August 2017, there was another case involving famous gaming providers. It started with players reporting strange game behavior on the Hera Casino website forum. This led to the investigation and evidence that the operator was using the pirated game "Dragon Kingdom" by Pragmatic Play and "Super Heroes" by Yggdrasil. The operator also provided incorrect information about its license.

In the face of such fraudulent activities, not only the original content providers experience economic losses, but also the players. They don't get proper gaming experience as graphics, payouts and bonuses don't live up to their expectations. As for the operators, they risk their business and reputation by offering copied games to attract more players.