It means I also have to verify myself with the payment provider. As soon as you have a payout in the casino, you also have to verify yourself again and send documents. This takes a certain amount of time because everything has to be checked, even if the individual steps don't really take that much time.
But it is a cumbersome procedure that bothers many online players. The solution to avoiding all these steps has now been found in the form of this concept by simply learning everything about the new Trustly service Pay N Play® is processed. There is no registration or login, because a transaction module does it automatically in the background.
You only have to enter an e-mail address. Transactions are free and everything is lightning fast without a casino account. The time spent playing online without having to register and verify has decreased enormously. It will not only be easy, but also completely uncomplicated.
---
Security and functionality in casinos without registration
The highest security standards when playing in online casinos are important to every player, because it is ultimately about money. With this new concept and a casino without registration, this is definitely guaranteed. Deposits and withdrawals are made via the Swedish and TÜV-certified payment provider Trustly. The company has been around since 2008.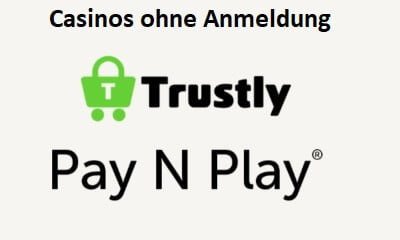 How does depositing with Trustly work?
Casino deposits are processed through the online banking account.
Therefore, there is no need to log in and register with Trustly.
The data is protected by the security protocol in online banking and no data can be read out without authorization.
Trustly works with almost all major German banks.
Start playing straight away without registering, deposit quickly and securely with online banking and off you go. When you click the button

Jetzt spielen

click, the deposit mask opens.
There you enter the online banking data and the amount. The player account is created in the background. The payment is made immediately and with the online banking ID you can stop and continue your game at any time.
---
Playing without a casino account – what are the advantages and disadvantages?
Playing in an online casino without having to register anywhere is suitable for those who play their game primarily via mobile devices such as smartphones or tablets. This clearly addresses the younger generation, which uses the Internet and these services exclusively via these channels.
The advantage of this new concept is that you no longer have to provide any personal data in order to play with real money in an online casino. The cumbersome registration and verification is no longer necessary.
Super fast payout through Pay N Play®
Through the new Pay N Play® Process at Trustly, withdrawals are made within 15 minutes. More or less, that means anonymous gaming as well. And with Trustly virtually no fraud can take place.
The whole concept is still fairly new, so the options at no-registration casinos are limited.

Namely only one payment option and almost no bonus offers.
For users who have no problem (or have never had) with entering their data at an online casino or verifying themselves with documents, there are simply other options. The data is just as safe there as in a casino without registration. You have different payment methods to choose from, there are different bonus offers and promotions.
Therefore, one pays in just as quickly and payouts at "different" casinos also take place within a few minutes. But you have to be verified and meet the conditions for bonus offers and comply with the terms and conditions.
Anyone who accepts this is better off at the casinos with registration.

But maybe the new concept is the future of online casinos and you only pay via online banking, which, however, also involves certain risks.

The user ultimately decides what he prefers and what options he would like to have.
We have listed three Pay N Play Casinos that are currently available for you. Two of them without restrictions and limits and one with restrictions for German customers.
Currently there are no more Pay'n Play online casinos, all providers also have a registration.